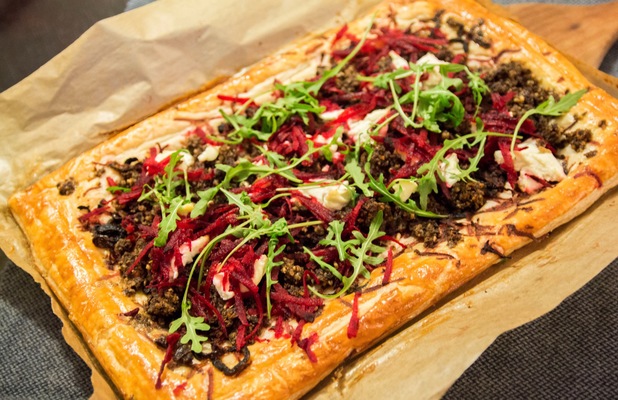 Ingredients
390g haggis
125g puff pastry (ready rolled at room temp)
2 tablespoons of caramelised onion chutney
100g cooked beetroot
2 tablespoons of Ricotta cheese
Beaten egg, to glaze
Rocket to serve
Method
1 Preheat oven to 200/gas mark 6
2 Roll out pastry on some baking paper, score (without cutting) a 1cm
border all round, then glaze edge with beaten egg.
3 Spread the chutney within the border.
4 Coarsely grate the beetroot (hold with kitchen towel to avoid staining
hands) and scatter over the chutney.
5 Break the haggis up into small pieces and scatter on top, followed by
dollops of ricotta.
6 Bake on baking tray (on the baking paper) for approximately 25 minutes
until golden and risen.
7 Scatter rocket over the top and enjoy.
Prep Time
10 minutes
Cook Time
25 minutes
Nutrition Information
Serves 4 as a main, 6 as a starter